The Ass and the Charger
by Aesop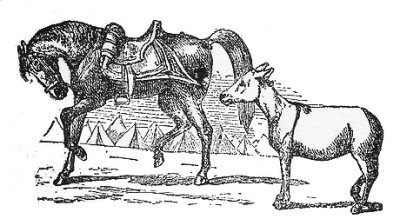 AN ASS congratulated a Horse on being so ungrudgingly and carefully provided for, while he himself had scarcely enough to eat, nor even that without hard work. But when war broke out, a heavily armed soldier mounted the Horse, and rushed into the very midst of the enemy, and the Horse, being wounded, fell dead on the battle-field.
Then the Ass, seeing all these things, changed his mind, and commiserated the Horse, saying: How much more fortunate am I than a charger. I can remain at home in safety while he is exposed to all the perils of war.
Moral:
Be not hasty to envy the condition of others.
Source:
Aesop's Fables
Copyright 1881
Translator: unknown
WM. L. Allison, New York
Illustrator: Harrison Weir, John Tenniel, Ernest Griset, et.al.