The Heifer, The Goat, The Sheep, And The Lion
by Aesop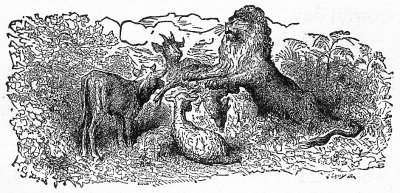 A HEIFER, a Goat, A Sheep, and a Lion formed a partnership, and agreed to divide their earnings. The Goat having snared a stag, they sent for the Lion to divide it for them. The Lion said: I will make four parts - the first shall be mine as judge; the second because I am strongest; the third, because I am bravest; and the fourth - I will kill anyone who dares touch it.
Moral:
He who will steal a part will steal the whole.
Source:
Aesop's Fables
Copyright 1881
Translator: unknown
WM. L. Allison, New York
Illustrator: Harrison Weir, John Tenniel, Ernest Griset, et.al.