The Bear and the Gardener
by Aesop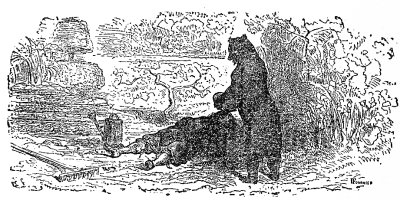 A GARDENER, who lived alone, became discontented, and set out, one day, to seek a friend who would be a suitable companion. He had not gone far when he met a Bear, whom he invited to come and live with him. The Bear was a very silly one, who was also discontented with living alone, so he went home with the gardener very willingly.
The gardener provided all the food, and the only service he required of the Bear was to keep the flies off his face while he slept in the shade. One day, a fly insisted upon lighting on the Gardener's face, although he was brushed off again and again. The silly Bear finally became so enraged that he threw a heavy stone upon it. He killed the fly, but alas! he also killed his friend.
Moral:
Better to have no friend at all than a foolish one.
Source:
Aesop's Fables
Copyright 1881
Translator: unknown
WM. L. Allison, New York
Illustrator: Harrison Weir, John Tenniel, Ernest Griset, et.al.