The Training Of A Prince
by Celia Thaxter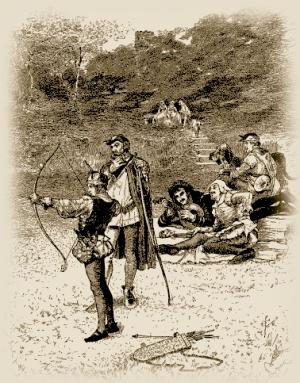 O strong young son of a king!
What is it thou shalt not know?
Not only to draw the twanging string
From the perfect curve of the bow,
And straight thine arrow send
To the distant target's heart,
But all good gifts their power would lend, --
Here, the musicians art,
There, hound and horn and hunter bold
The joys of the chase would teach;
The courtier's graces manifold, --
The poet's golden speech, --
All wisdom and knowledge and beauty wait
To make thee noble and crown thy state.
Wilt thou be first in the fight
Among the warriors great?
And will thy hand in the lute delight
Wooing a lovely mate?
Wilt thou rule wisely many a year
With a firm grasp on the helm,
And the ship of the nation safely steer
Though storms would overwhelm
Be thou thy people's pride and joy,
Wide may thy praises ring,
And growing from the princely boy
To the stature of a king,
Thine arrows of lofty purpose send
Ever straight to the mark, for foe or friend!
Source:
Idyls And Pastorals: A Home Gallery Of Poetry And Art
Copyright 1886
D. Lothrop And Company,
Franklin And Hawley Streets,
Boston