The Dream Pedler
by Celia Thaxter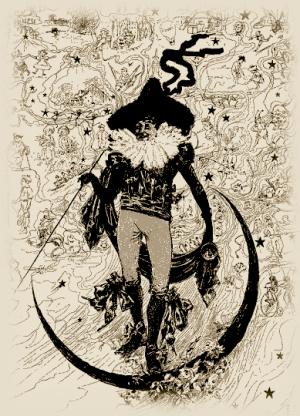 Lo, I come from dreamland dim,
Down the drowsy air I swim,
Ringing soft a pleasant tune,
Through the sharp horns of the moon;
All that fancy fine can paint
Of fair or sweet or wild or quaint,
Through your brain I'll set adrift,
When my slender wand I lift.
Hark, what fairy breezes blow!
Tinkles ice and flutters snow,
Mingled with the summer dreams
Of lilies white on placid streams;
You shall woo a mermaid fair,
You shall fright the imp of care,
'Twixt a dove's wings you shall ride,
Down a cloud-bank you shall slide!
You shall fill a wind-rocked nest,
In a witch's palace rest,
You shall gather flowers afield,
You shall wear a turtle's shield,
By a butterfly be snared,
By a tiny kobold scared;
You shall soar in a balloon,
You shall dance in magic shoon;
Which will suit you? Pause and choose
Ere my visions I unloose.
Source:
Idyls And Pastorals: A Home Gallery Of Poetry And Art
Copyright 1886
D. Lothrop And Company,
Franklin And Hawley Streets,
Boston