Children's Hymn
by Mary Mapes Dodge
Air, Little Drops of Water.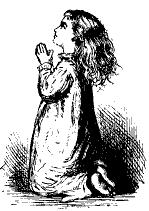 From the sunny morning
To the starry night,
Every look and motion
Meets our Father's sight.
From our earliest breathing
To our latest year,
Every sound we utter
Meets our Father's ear.
Through our earth journey,
Wheresoe'er we go,
Every thought and feeling
Doth our Father know.
Let us then be careful
That our looks shall be
Brave and kind and cheerful,
For our Lord to see.
Let us guard each accent
With a holy fear,
Fit our every saying
For our Lord to hear.
Let no thought within us,
Hidden or confessed,
Ever bring a sorrow
To our dear Lord's breast.
Help us, O our Father!
Hear our earnest plea ---
Teach thy little children
How to live for Thee!
Source:
Rhymes And Jingles
Copyright 1875
Scribner, Armstrong, And Company