Free Classic Literature
Litscape.com provides free access to great works of classic literature. These works are presented in a friendly format for your reading pleasure. All works are indexed by title, first line, last line, and moral (for fables). New pieces are added frequently, so visit often. Enjoy!
Comprehensive Word Analysis, New to Litscape.com
Litscape.com now offers a comprehensive word analysis section, where each word has a dedicated page offering:
Definitions, where available.
Quotations relevant to the word, where available. These are little bits of potted wisdom by some of the worlds greatest authors and other famous people. For example, there are over 1600 great quotations about love all in one place. Pick your word and pick your favorites.
Patterns of word growth (how you can make the word from other words, and how you can make other words using the word).
Charts of all words within the letters of the word, and the word as it appears as a sequence within other words.
Find the best plays for Scrabble® or Words with Friends™ using the letters of the word. The score in these games depends not only on the letters of the word, but where you play it. These charts give you the scores for that word and all words within, at all possible board positions. Sort by score to get your best plays. If you enter the random letters on your rack (8 letters max), it will also tell you your best plays.
Litscape.com Exclusive Word Finder Tools
Litscape.com has the best word finder tools anywhere, making it easier to find words you are looking for. Our exclusive collection of live dictionary word search tools lets you search for words matching your specifications in a variety of word lists. These searches are extremely fast and the results are exhaustive. The results can be sorted alphabetically from the start and the end of the words, by length, by Scrabble® scores, and by Words With Friends™ scores. These tools are a valuable resource for writers, poets, teachers, students, and everyone who enjoys word games.
Simply select your word list, enter your letters, and press Get Words. Adjust the display controls to sort the results in various ways, and alter how they are displayed.
Word List Updates
Updated! Litscape Default Censored Word List 127,354 Words
Enable Censored Word List 170,705 Words
Enable Uncensored Word List 171,297 Words
New! Scrabbleable Censored Word List 120,237 Words
New! Scrabbleable Uncensored Word List 120,649 Words
Updated! Mammoth Censored Word List 287,391 Words
Updated! Mammoth Uncensored Word List 288,218 Words
Word Finder Tools
Browse Extensive Word Lists
Litscape.com offers extensive sets of wordlists, organized by word starts, word ends, word lengths, and anagram sets.
Put the dictionary under a microscope. Visit Wordiscope.com.
Litscape.com is pleased to introduce our sister site Litscape Art. Litscape Art offers a unique glimpse into the world of art, with over 400,000 titles by 30,000+ artists. It is well indexed, easily navigable, and very interesting. Images on the individual work pages are quite large and easy to see. Visit LitscapeArt.com today!
Featured Selections
Only For One
by
Achsa White Sprague
At times my soul beneath the power
Of some strange spell is stirred,
As though an Angel sang to me,
And I that song had heard;
As though some power within my soul
Burst forth like morning sun,
And thrilled to music every chord --
I only sing for one.
...
Before The Mirror
by
Elizabeth Stoddard
Now like the Lady of Shalott,
I dwell within an empty room,
And through the day and through the night
I sit before an ancient loom.
...
Binding Sheaves
by
Jean Ingelow
Hark! a lover binding sheaves
To his maiden sings,
Flutter, flutter go the leaves,
Larks drop their wings.
Little brooks for all their mirth
Are not blythe as he.
Give me what the love is worth
That I give thee.
...
Blind
by
Ella Wheeler Wilcox
Whatever a man may think or feel
He can tell to the world and it hears aright;
But it bids the woman conceal, conceal,
And woe to the thoughts that at last ignite.
She may serve up gossip or dwell on fashion,
Or play the critic with speech unkind,
But alas for the woman who speaks with passion!
For the world is blind -- for the world is blind.
...
Couleur De Rose
by
Ella Wheeler Wilcox
But oh! if love fled far away,
Or veiled his face from me,
One life too much, why then were such
A life as this would be.
With sullen May and blighted June,
Blurred dawn and haggard night,
This dear old world in space were hurled
If love lent not his light.
(O love, stay near!)
...
Disease
by
Achsa White Sprague
I sit me down with troubled thoughts and wildly aching head,
I'm lonely, sad, dispirited, hope seems forever fled;
My mind is all one chaos dark of visions wild and strange,
That one by one with startling force before me seem to range.
The hand of grief with leaden weight is pressing on my brow,
And 'neath its weight of heaviness my stricken form must bow.
All things that meet my saddened gaze a gloomy aspect wear,
And life a weary, weary way, almost too hard to bear.
...
Duty's Path
by
Ella Wheeler Wilcox
Out from the harbour of youth's bay
There leads the path of pleasure;
With eager steps we walk that way
To brim joy's largest measure.
But when with morn's departing beam
Goes youth's last precious minute,
We sigh 'Twas but a fevered dream --
There's nothing in it.
...
Footsteps of Angels
by
Henry Wadsworth Longfellow
When the hours of Day are numbered,
And the voices of the Night
Wake the better soul, that slumbered,
To a holy, calm delight;
Ere the evening lamps are lighted,
And, like phantoms grim and tall,
Shadows from the fitful fire-light
Dance upon the parlor wall;
...
Forest Music
by
Hannah Flagg Gould
There's a sad loneliness about my heart, --
A deep, deep solitude the spirit feels
Amid this multitude. The things of art
Pall on the senses -- from its pageantry,
Loathing, my eye turns off; and my ear shrinks
From the harsh dissonance that fills the air.
...
Found Frozen
by
Helen Hunt Jackson
She died, as many travellers have died,
Overtaken on an Alpine road by night
Numbed and bewildered by the falling snow,
Striving, in spite of failing pulse, and limbs
Which faltered and grew feeble at each step,
To toil up the icy steep, and bear
Patient and faithful to the last, the load
Which, in the sunny morn, seemed light!
...
Jamie's Troubles
by
Mary Mapes Dodge
Mamma, what's zis on my ap'on?
Nassy ap'on make me ky;
Naughty ap'on awfu' 'ticky ---
Puttin' 'lasses in my eye.
...
Love Lies Bleeding
by
William Wordsworth
You call it, Love lies bleeding, -- so you may,
Though the red Flower, not prostrate, only droops,
As we have seen it here from day to day,
From month to month, life passing not away:
A flower how rich in sadness! Even thus stoops,
...
Love's Language
by
Ella Wheeler Wilcox
How does Love speak?
In the faint flush upon the telltale cheek,
And in the pallor that succeeds it; by
The quivering lid of an averted eye --
The smile that proves the parent to a sigh --
Thus doth Love speak.
...
Measures
by
Katharine Lee Bates
Measure grist by the millful,
Dew by the daffodilful,
April clouds by the skyful,
Tears by Ophelia's eyeful;
Measure leaves by the elmful,
Slaves by the tyrant's realmful,
...
My Secret
by
Henry Wadsworth Longfellow
My soul its secret hath, my life too hath its mystery,
A love eternal in a moment's space conceived;
Hopeless the evil is, I have not told its history,
And she who was the cause nor knew it nor believed.
Alas! I shall have passed close by her unperceived,
For ever at her side and yet for ever lonely,
I shall unto the end have made life's journey, only
Daring to ask for nought, and having nought received.
...
Necessity
by
Ella Wheeler Wilcox
Necessity, whom long I deemed my foe,
Thou cold, unsmiling, and hard-visaged dame,
Now I no longer see thy face, I know
Thou wert my friend beyond reproach or blame.
...
Odes To Nea: You read it in my languid eyes...
by
Thomas Moore
You read it in my languid eyes,
And there alone should love be read;
You hear me say it all in sighs,
And thus alone should love be said.
Then dread no more; I will not speak;
Although my heart to anguish thrill,
I'll spare the burning of your cheek,
And look it all in silence still!
...
On The Shore
by
Susan Coolidge
The punctual tide draws up the bay,
With ripple of wave and hiss of spray,
And the great red flower of the light-house tower
Blooms on the headland far away.
...
Once In A While
by
Ella Wheeler Wilcox
Once in a while, in this world so strange,
To lighten our sad regrets,
We find a heart that is true through change --
A heart that never forgets.
Oh rare as a blossoming rose in December --
As a bird in an Arctic clime,
Is a heart, a heart that can remember
Through sorrow and change and time.
...
One Of Us Two
by
Ella Wheeler Wilcox
The day will dawn, when one of us shall hearken
In vain to hear a voice that has grown dumb.
And morns will fade, noons pale, and shadows darken,
While sad eyes watch for feet that never come.
...
Shadow -- A Parable
by
Edgar Allan Poe
Ye who read are still among the living; but I who write shall have long since gone my way into the region of shadows. For indeed strange things shall happen, and secret things be known, and many centuries shall pass away, ere these memorials be seen of men. And, when seen, there will be some to disbelieve, and some to doubt, and yet a few who will find much to ponder upon in the characters here graven with a stylus of iron.
...
Shame On The Coward Souls
by
Achsa White Sprague
Shame on the coward souls that bend
At some such trifling thing,
And stoop from all their loftiest thoughts,
Such bitter words to bring!
Shame on the coward souls whose power
Is but in sunny days!
That faints, and dies, and fades away,
In sorrow's misty ways,
...
The Bells
by
Edgar Allan Poe
Hear the sledges with the bells,
Silver bells!
What a world of merriment their melody foretells!
How they tinkle, tinkle, tinkle,
In the icy air of night!
While the stars, that oversprinkle
All the heavens, seem to twinkle
With a crystalline delight;
Keeping time, time, time,
In a sort of Runic rhyme,
To the tintinnabulation that so musically wells
From the bells, bells, bells, bells,
Bells, bells, bells --
From the jingling and the tinkling of the bells.
...
The Birth Of The Opal
by
Ella Wheeler Wilcox
The Sunbeam loved the Moonbeam,
And followed her low and high,
But the Moonbeam fled and hid her head,
She was so shy -- so shy.
...
The Child On The Beach
by
Hannah Flagg Gould
Mary, a beautiful, artless child,
Came down on the beach to me,
Where I sat, and a pensive hour beguiled
By watching the restless sea.
...
The Comet
by
Oliver Wendell Holmes
The Comet! He is on his way,
And singing as he flies;
The whizzing planets shrink before
The spectre of the skies;
Ah! well may regal orbs burn blue,
And satellites turn pale,
Ten million cubic miles of head,
Ten billion leagues of tail!
...
The Duet
by
Ella Wheeler Wilcox
I was smoking a cigarette;
Maud, my wife, and the tenor McKey,
Were singing together a blithe duet,
And days it were better I should forget
Came suddenly back to me.
Days when life seemed a gay masque ball,
And to love and be loved was the sum of it all.
...
The Favorite Flower
by
Celia Thaxter
O the warm, sweet, mellow summer noon,
The golden calm and the perfumed air,
The chirp of birds and the locust's croon,
The rich flowers blossoming still and fair.
The old house lies 'mid the swarming leaves
Steeped in sunshine from porch to eaves,
With doors and windows thrown open wide
To welcome the beauty and bloom outside.
...
The Frozen Ship
by
Letitia Elizabeth Landon
The fair ship cut the billows,
And her path lay white behind,
And dreamily amid her sails
Scarce moved the sleeping wind.
...
The Hare and the Tortoise
by
Aesop
A HARE one day ridiculed the short feet and slow pace of the Tortoise. The latter, laughing, said: Though you be swift as the wind, I will beat you in a race. The Hare, deeming her assertion to be simply impossible, assented to the proposal; and they agreed that the Fox should choose the course, and fix the goal.
...
The Harp Of Andrew Marvell
by
Theodore Tilton
O Marvell's harp! I dare to wake
Thy silent strings for Freedom's sake,
To sing how vain thy boast
Of Cromwell's conquering host!
...
The Height Of The Ridiculous
by
Oliver Wendell Holmes
I wrote some lines once on a time
In wondrous merry mood,
And thought, as usual, men would say
They were exceeding good.
They were so queer, so very queer,
I laughed as I would die;
Albeit, in the general way,
A sober man am I.
...
The House Of Clouds
by
Elizabeth Barrett Browning
I would build a cloudy House
For my thoughts to live in:
When for earth too fancy-loose,
And too low for Heaven!
Hush! I talk my dream aloud --
I build it bright to see, --
I build it on the moonlit cloud
To which I looked with thee.
...
The Lake Of The Dismal Swamp.
by
Thomas Moore
They made her a grave, too cold and damp
For a soul so warm and true;
And she 's gone to the Lake of the Dismal Swamp,
Where, all night long, by a fire-fly lamp,
She paddles her white canoe.
...
The Light Of Stars
by
Henry Wadsworth Longfellow
The night is come, but not too soon;
And sinking silently,
All silently, the little moon
Drops down behind the sky.
There is no light in earth or heaven,
But the cold light of stars;
And the first watch of night is given
To the red planet Mars.
...
The Morning Walk, Or The Stolen Blush
by
Frances Sargent Locke Osgood
Never tell me that cheek is not painted, false maid!
'Tis a fib, tho' your pretty lip pouts while I say it;
And if the cheat were not already betray'd,
Those exquisite blushes themselves would betray it.
...
The Open Window
by
Henry Wadsworth Longfellow
The old house by the lindens
Stood silent in the shade,
And on the gravelled pathway
The light and shadow played.
...
The Passionate Shepherd To His Love
by
Christopher Marlowe
Live, live with me, and thou shalt see
The pleasures I'll prepare for thee;
What sweets the country can afford
Shall bless thy bed and bless thy board.
The soft sweet moss shall be thy bed
With crawling woodbine overspread:
By which the silver-shedding streams
Shall gently melt thee into dreams.
...
The Philosopher To His Love
by
Oliver Wendell Holmes
How few that love us have we found!
How wide the world that girds them round!
Like mountain streams we meet and part,
Each living in the other's heart,
Our course unknown, our hope to be
Yet mingled in the distant sea.
...
The Rigs O' Barley
by
Robert Burns
It was upon a Lammas night,
When corn rigs are bonnie,
Beneath the moon's unclouded light,
I held awa to Annie:
The time flew by wi' tentless heed,
'Till, 'tween the late and early,
Wi' sma' persuasion she agreed
To see me thro' the barley.
...
The Rime Of The Ancient Mariner
by
Samuel Taylor Coleridge
It is an ancient Mariner,
And he stoppeth one of three.
By thy long grey beard and glittering eye,
Now wherefore stopp'st thou me?
...
The Secret Of The Sea
by
Henry Wadsworth Longfellow
Ah! what pleasant visions haunt me
As I gaze upon the sea!
All the old romantic legends,
All my dreams, come back to me.
Sails of silk and ropes of sendal,
Such as gleam in ancient lore;
And the singing of the sailors,
And the answer from the shore!
...
The Snow-Flake
by
Hannah Flagg Gould
Now, if I fall, will it be my lot
To be cast in some lone, and lowly spot,
To melt, and to sink, unseen, or forgot?
And there will my course be ended?
'T was this a feathery Snow-Flake said,
As down through measureless space it strayed,
Or, as half by dalliance, half afraid,
It seemed in mid air suspended.
...
The Thief and His Mother
by
Aesop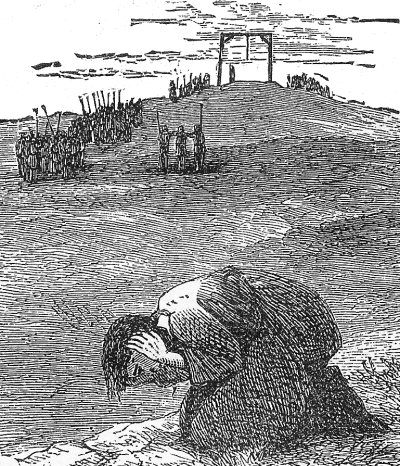 A SCHOOLBOY stole a horn-book from one of his schoolfellows and brought it home to his Mother. Instead of chastising him, she rather encouraged him in the deed. In the course of time, the boy, now grown into a man, began to steal things of greater value, until, at last, being caught in the very act, he was brought before a judge and sentenced to be hung. As he was being led to the scaffold, the mother bowed herself to the ground with grief. A neighbor seeing her thus, said to her: It is too late for you to moan and sob now. If you had been as much grieved when he committed his first theft, you would have corrected him in time, and thus saved youself this sorrowful day.
Moral:
Nip evil in the bud.
...
The Undiscovered Country
by
Ella Wheeler Wilcox
Man has explored all countries and all lands,
And made his own the secrets of each clime.
Now, ere the world has fully reached its prime,
The oval earth lies compassed with steel bands;
The seas are slaves to ships that touch all strands,
And even the haughty elements sublime
And bold, yield him their secrets for all time,
And speed like lackeys forth at his commands.
...
The Windmill
by
Henry Wadsworth Longfellow
Behold! a giant am I!
Aloft here in my tower,
With my granite jaws I devour
The maize, and the wheat, and the rye,
And grind them into flour.
...
The Wolf and the Lamb
by
Aesop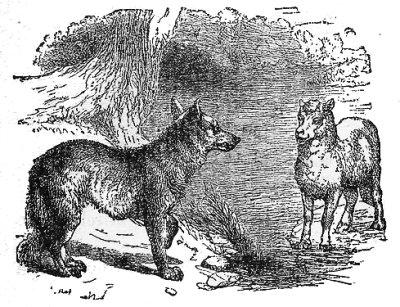 A WOLF, meeting with a lamb astray from the fold, resolved not to lay violent hands on him, but to find some plea, which should justify to the lamb himself, his right to eat him.
He then addressed him: Sirrah, last year you grossly insulted me.
Indeed, bleated the lamb in a mournful tone of voice: I was not then born.
Then said the wolf: You feed in my pasture.
No, good sir, replied the lamb: I have not yet tasted grass.
Again said the wolf: You drink of my well.
No, exclaimed the lamb: I never yet drank water, for as yet my mother's milk is both food and drink to me.
Upon which the wolf seized him and ate him up, saying: Well! I won't remain supper-less, even though you refute every one of my imputations.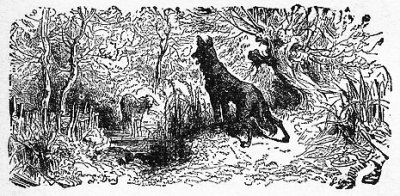 Moral:
The tyrant will always find a pretext for his tyranny, and it is useless for the innocent to try by reasoning to get justice, when the oppressor intends to be unjust.
...
The Yankee Tea-Party
by
Hannah Flagg Gould
King George sat high on his family throne,
The 'lord of the isles,' that were fairly his own,
And might have sufficed, had his majesty known
The folly of coveting more.
But, seeking a tribute his pomp to maintain,
He reached from his island to grasp at the main,
Intending his coffers should swell with the gain
Brought off from a distant shore.
...
Tis The Last Rose Of Summer
by
Thomas Moore
'Tis the last rose of summer,
Left blooming alone;
All her lovely companions
Are faded and gone;
No flow'r of her kindred,
No rose-bud is nigh,
To reflect back her blushes,
Or give sigh for sigh!
...
To A Blank Sheet Of Paper
by
Oliver Wendell Holmes
Wan-visaged thing! thy virgin leaf
To me looks more than deadly pale,
Unknowing what may stain thee yet, --
A poem or a tale.
Who can thy unborn meaning scan?
Can Seer or Sibyl read thee now?
No, -- seek to trace the fate of man
Writ on his infant brow.
...
To Another Woman's Baby
by
Ella Wheeler Wilcox
I list your prattle, baby boy,
And hear your pattering feet
With feelings more of pain than joy
And thoughts of bitter-sweet.
...
To Autumn
by
John Keats
Season of mists and mellow fruitfulness!
Close bosom-friend of the maturing sun;
Conspiring with him how to load and bless
With fruit the vines that round the thatch-eaves run;
To bend with apples the moss'd cottage-trees,
And fill all fruit with ripeness to the core;
To swell the gourd, and plump the hazel shells
With a sweet kernel; to set budding more,
And still more, later flowers for the bees,
Until they think warm days will never cease,
For Summer has o'er-brimm'd their clammy cells.
...
To _. (What can I do to drive away).
by
John Keats
What can I do to drive away
Remembrance from my eyes? for they have seen,
Aye, an hour ago, my brilliant Queen!
Touch has a memory. O say, love, say,
What can I do to kill it and be free
In my old liberty?
When every fair one that I saw was fair,
Enough to catch me in but half a snare,
Not keep me there:
When, howe'er poor or particolour'd things,
My muse had wings,
And ever ready was to take her course
Whither I bent her force,
Unintellectual, yet divine to me; --
Divine, I say! -- What sea-bird o'er the sea
Is a philosopher the while he goes
Winging along where the great water throes?
...
To___. (Not long ago the writer of these lines...)
by
Edgar Allan Poe
Not long ago the writer of these lines,
In the mad pride of intellectuality,
Maintained the power of words -- denied that ever
A thought arose within the human brain
Beyond the utterance of the human tongue:
And now, as if in mockery of that boast,
Two words, two foreign soft dissyllables,
Italian tones, made only to be murmured
By angels dreaming in the moonlit dew
That hangs like chains of pearl on Hermon hill,
Have stirred from out the abysses of his heart
Unthought-like thoughts, that are the souls of thought, --
...
Weariness
by
Henry Wadsworth Longfellow
O little feet! that such long years
Must wander on through hopes and fears,
Must ache and bleed beneath your load;
I, nearer to the Wayside Inn
Where toil shall cease and rest begin,
Am weary, thinking of your road!
...
Wedded Souls
by
Percy Bysshe Shelley
I am as a spirit who has dwelt
Within his heart of hearts, and I have felt
His feelings, and have thought his thoughts, and known
The inmost converse of his soul, the tone
Unheard but in the silence of his blood,
...
When Love came first to earth, the spring ...
by
Thomas Campbell
WHEN LOVE came first to earth, the SPRING
Spread rose-beds to receive him,
And back he vow'd his flight he'd wing
To Heaven, if she should leave him.
...