Free Classic Literature
Litscape.com provides free access to great works of classic literature. These works are presented in a friendly format for your reading pleasure. All works are indexed by title, first line, last line, and moral (for fables). New pieces are added daily, so visit often. Enjoy!
Mammoth 274,000+ Word List and Contains Only With Blank Tile Searches
hippopotomonstrosesquipedaliophobia = The fear of long words.
Select your word list. Enter your letters. Press Get Words. Our exclusive collection of live dictionary word search tools let you search for words matching your specifications in a variety of word lists. These searches are extremely fast and the results are exhaustive. The results can be sorted alphabetically, from the start and the end of the words, and by length, using the buttons below the search results, making it easier to find what you are looking for.
Search 53,000+ words in the default word list, 172,000+ word in the enable word list, or 274,000+ words in the mammoth word list. The enable and mammoth word lists are available in censored versions (for the more sensitive audience) and uncensored versions (if you don't mind the nasty words).
These tools are a valuable resource for writers, poets, teachers, students, and those who enjoy word games. Searches include:
Put the dictionary under a microscope. Visit Wordiscope.com.
Litscape.com is pleased to introduce our sister site Litscape Art. Litscape Art offers a unique glimpse into the world of art, with over 400,000 titles by 30,000+ artists. It is well indexed, easily navigable, and very interesting. Images on the individual work pages are quite large and easy to see. Visit Litscape Art.com today!
Just The Worlds Best Caesar Salad Dressing Recipe
This has nothing to do with literature or words, but this stuff is sheer poetry to lettuce. I will not order caesar salad in a restaurant or buy caesar salad dressing in the supermarket. In my opinion, nothing touches this recipe, and it is very easy and inexpensive to make. Mix it all together and let it sit a few hours in the fridge to let the flavors mix. Toss it with romaine lettuce (or any lettuce) and croutons. This is so good, it would be truly selfish not to share it with my readers. Enjoy!
1 c. mayonnaise (Hellman's works best. Miracle Whip doesn't have the right flavors for this recipe.)
2 fresh garlic cloves, crushed
1/4 c. half and half cream or milk
1/3 c. grated parmesan cheese
2 tbsp. freshly squeezed lemon juice
1 tbsp. dijon mustard
2 tsp. worcestershire sauce
Salt and pepper to taste (it is still very good if you omit the salt)
2 anchovie fillets, chopped (optional)
Just The Worlds Butter Tart Recipe
Nothing goes better with poetry and Scrabble like a good cup of coffee, caesar salad and butter tarts. Many will tell you that butter tarts are fattening, too sweet, etc. They may have a point, so if you are going to eat them, make sure they are good ones, and these are the best.
1/2 c. melted butter
1 3/4 c. brown sugar
1 tbsp lemon juice or vinegar
2 eggs
1 tsp vanilla
1 cup raisins
1/2 c. nut meats (or replace with more raisins, either way it is good.)
Beat the eggs, sugar, lemon, and vanilla until well mixed. Stir in the melted butter, fruit and nuts. Line tins with pastry and fill each about 2/3 full. (Frozen tart shells work well and are so easy.) Bake at 425F for 10 minutes, then 10-15 minutes at 350F. Makes 24 tarts.
Featured Selections
Be Not Content
by
Ella Wheeler Wilcox
Be not content -- contentment means inaction;
The growing soul aches on its upward quest;
Satiety is twin to satisfaction;
All great achievements spring from life's unrest.
Beautiful Sleep
by
Achsa White Sprague
Beautiful sleep!
We call you, we implore you,
Come to us now;
Help us to rest the weary head,
From which the strength and power have fled,
And soothe the aching brow.
Forest Music
by
Hannah Flagg Gould
There's a sad loneliness about my heart, --
A deep, deep solitude the spirit feels
Amid this multitude. The things of art
Pall on the senses -- from its pageantry,
Loathing, my eye turns off; and my ear shrinks
From the harsh dissonance that fills the air.
Is it that in some brighter sphere...
by
Percy Bysshe Shelley
Is it that in some brighter sphere
We part from friends we meet with here?
Or do we see the Future pass
Over the Present's dusky glass?
Or what is that that makes us seem
To patch up fragments of a dream,
Part of which comes true, and part
Beats and trembles in the heart?
Mistakes
by
Ella Wheeler Wilcox
God sent us here to make mistakes,
To strive, to fail, to re-begin,
To taste the tempting fruit of sin,
And find what bitter food it makes,
Mutability. (We are as clouds that veil the midnight moon...)
by
Percy Bysshe Shelley
We are as clouds that veil the midnight moon;
How restlessly they speed, and gleam, and quiver,
Streaking the darkness radiantly!--yet soon
Night closes round, and they are lost for ever;
Passage Of The Apennines.
by
Percy Bysshe Shelley
Listen, listen, Mary mine,
To the whisper of the Apennine,
It bursts on the roof like the thunder's roar,
Or like the sea on a northern shore,
Heard in its raging ebb and flow
Romance
by
Edgar Allan Poe
Romance, who loves to nod and sing
With drowsy head and folded wing
Among the green leaves as they shake
Far down within some shadowy lake,
To me a painted paroquet
Hath been -- a most familiar bird --
Taught me my alphabet to say,
To lisp my very earliest word
While in the wild-wood I did lie,
A child -- with a most knowing eye.
Secret Thoughts
by
Ella Wheeler Wilcox
I hold it true that thoughts are things
Endowed with bodies, breath, and wings,
And that we send them forth to fill
The world with good results - or ill.
Serenade -- Good-Night
by
Achsa White Sprague
Good-night, good-night! the morning star
Is growing faint and dim,
And soon those choristers, the birds,
Begin their early hymn.
Success (As we gaze up life's slope, as we gaze...)
by
Ella Wheeler Wilcox
As we gaze up life's slope, as we gaze
In the morn, ere the dewdrops are dry,
What splendour hangs over the ways,
What glory gleams there in the sky,
What pleasures seem waiting us, high
On the peak of that beauteous slope,
What rainbow-hued colours of hope,
As we gaze!
The Bells
by
Edgar Allan Poe
Hear the sledges with the bells,
Silver bells!
What a world of merriment their melody foretells!
How they tinkle, tinkle, tinkle,
In the icy air of night!
While the stars, that oversprinkle
All the heavens, seem to twinkle
With a crystalline delight;
Keeping time, time, time,
In a sort of Runic rhyme,
To the tintinnabulation that so musically wells
From the bells, bells, bells, bells,
Bells, bells, bells --
From the jingling and the tinkling of the bells.
The Lake Of The Dismal Swamp.
by
Thomas Moore
They made her a grave, too cold and damp
For a soul so warm and true;
And she 's gone to the Lake of the Dismal Swamp,
Where, all night long, by a fire-fly lamp,
She paddles her white canoe.
The Mystery Of Nature
by
Theodore Tilton
I.
The works of God are fair for nought
Unless our eyes, in seeing,
See, hidden in the thing, the thought
That animates its being.
II.
The outward form is not the whole,
But every part is moulded
To image forth an inward soul
That dimly is unfolded.
The Thief and His Mother
by
Aesop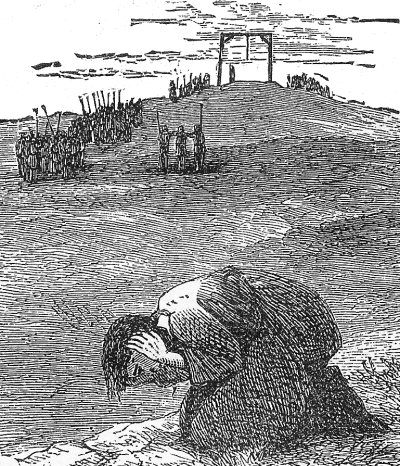 A SCHOOLBOY stole a horn-book from one of his schoolfellows and brought it home to his Mother. Instead of chastising him, she rather encouraged him in the deed. In the course of time, the boy, now grown into a man, began to steal things of greater value, until, at last, being caught in the very act, he was brought before a judge and sentenced to be hung. As he was being led to the scaffold, the mother bowed herself to the ground with grief. A neighbor seeing her thus, said to her: It is too late for you to moan and sob now. If you had been as much grieved when he committed his first theft, you would have corrected him in time, and thus saved youself this sorrowful day.
Moral:
Nip evil in the bud.
The Undiscovered Country
by
Ella Wheeler Wilcox
Man has explored all countries and all lands,
And made his own the secrets of each clime.
Now, ere the world has fully reached its prime,
The oval earth lies compassed with steel bands;
The seas are slaves to ships that touch all strands,
And even the haughty elements sublime
And bold, yield him their secrets for all time,
And speed like lackeys forth at his commands.
The Wolf and the Lamb
by
Aesop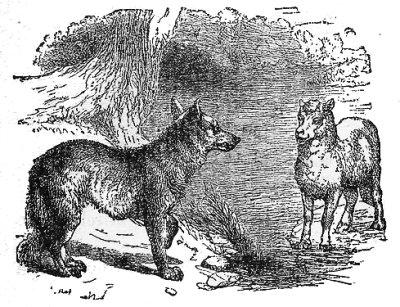 A WOLF, meeting with a lamb astray from the fold, resolved not to lay violent hands on him, but to find some plea, which should justify to the lamb himself, his right to eat him.
He then addressed him: Sirrah, last year you grossly insulted me.
Indeed, bleated the lamb in a mournful tone of voice: I was not then born.
Then said the wolf: You feed in my pasture.
No, good sir, replied the lamb: I have not yet tasted grass.
Again said the wolf: You drink of my well.
No, exclaimed the lamb: I never yet drank water, for as yet my mother's milk is both food and drink to me.
Upon which the wolf seized him and ate him up, saying: Well! I won't remain supper-less, even though you refute every one of my imputations.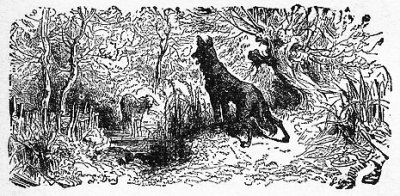 Moral:
The tyrant will always find a pretext for his tyranny, and it is useless for the innocent to try by reasoning to get justice, when the oppressor intends to be unjust.
The Yankee Tea-Party
by
Hannah Flagg Gould
King George sat high on his family throne,
The 'lord of the isles,' that were fairly his own,
And might have sufficed, had his majesty known
The folly of coveting more.
But, seeking a tribute his pomp to maintain,
He reached from his island to grasp at the main,
Intending his coffers should swell with the gain
Brought off from a distant shore.
Tis The Last Rose Of Summer
by
Thomas Moore
'Tis the last rose of summer,
Left blooming alone;
All her lovely companions
Are faded and gone;
No flow'r of her kindred,
No rose-bud is nigh,
To reflect back her blushes,
Or give sigh for sigh!
To A Blank Sheet Of Paper
by
Oliver Wendell Holmes
Wan-visaged thing! thy virgin leaf
To me looks more than deadly pale,
Unknowing what may stain thee yet, --
A poem or a tale.
Who can thy unborn meaning scan?
Can Seer or Sibyl read thee now?
No, -- seek to trace the fate of man
Writ on his infant brow.
To _. (What can I do to drive away).
by
John Keats
What can I do to drive away
Remembrance from my eyes? for they have seen,
Aye, an hour ago, my brilliant Queen!
Touch has a memory. O say, love, say,
What can I do to kill it and be free
In my old liberty?
When every fair one that I saw was fair,
Enough to catch me in but half a snare,
Not keep me there:
When, howe'er poor or particolour'd things,
My muse had wings,
And ever ready was to take her course
Whither I bent her force,
Unintellectual, yet divine to me; --
Divine, I say! -- What sea-bird o'er the sea
Is a philosopher the while he goes
Winging along where the great water throes?
Weariness
by
Henry Wadsworth Longfellow
O little feet! that such long years
Must wander on through hopes and fears,
Must ache and bleed beneath your load;
I, nearer to the Wayside Inn
Where toil shall cease and rest begin,
Am weary, thinking of your road!
When Love came first to earth, the spring ...
by
Thomas Campbell
WHEN LOVE came first to earth, the SPRING
Spread rose-beds to receive him,
And back he vow'd his flight he'd wing
To Heaven, if she should leave him.