Free Classic Literature
Litscape.com provides free access to great works of classic literature. These works are presented in a friendly format for your reading pleasure. All works are indexed by title, first line, last line, and moral (for fables). New pieces are added daily, so visit often. Enjoy!
Mammoth 274,000+ Word List and Contains Only With Blank Tile Searches
hippopotomonstrosesquipedaliophobia = The fear of long words.
Select your word list. Enter your letters. Press Get Words. Our exclusive collection of live dictionary word search tools let you search for words matching your specifications in a variety of word lists. These searches are extremely fast and the results are exhaustive. The results can be sorted alphabetically, from the start and the end of the words, and by length, using the buttons below the search results, making it easier to find what you are looking for.
Search 53,000+ words in the default word list, 172,000+ word in the enable word list, or 274,000+ words in the mammoth word list. The enable and mammoth word lists are available in censored versions (for the more sensitive audience) and uncensored versions (if you don't mind the nasty words).
These tools are a valuable resource for writers, poets, teachers, students, and those who enjoy word games. Searches include:
Put the dictionary under a microscope. Visit Wordiscope.com.
Litscape.com is pleased to introduce our sister site Litscape Art. Litscape Art offers a unique glimpse into the world of art, with over 400,000 titles by 30,000+ artists. It is well indexed, easily navigable, and very interesting. Images on the individual work pages are quite large and easy to see. Visit Litscape Art.com today!
Just The Worlds Best Caesar Salad Dressing Recipe
This has nothing to do with literature or words, but this stuff is sheer poetry to lettuce. I will not order caesar salad in a restaurant or buy caesar salad dressing in the supermarket. In my opinion, nothing touches this recipe, and it is very easy and inexpensive to make. Mix it all together and let it sit a few hours in the fridge to let the flavors mix. Toss it with romaine lettuce (or any lettuce) and croutons. This is so good, it would be truly selfish not to share it with my readers. Enjoy!
1 c. mayonnaise (Hellman's works best. Miracle Whip doesn't have the right flavors for this recipe.)
2 fresh garlic cloves, crushed
1/4 c. half and half cream or milk
1/3 c. grated parmesan cheese
2 tbsp. freshly squeezed lemon juice
1 tbsp. dijon mustard
2 tsp. worcestershire sauce
Salt and pepper to taste (it is still very good if you omit the salt)
2 anchovie fillets, chopped (optional)
Featured Selections
A Better Resurrection
by
Christina Rossetti
I Have no wit, no words, no tears;
My heart within me like a stone
Is numbed too much for hopes or fears;
Look right, look left, I dwell alone;
I lift mine eyes, but dimmed with grief
No everlasting hills I see;
My life is in the falling leaf:
O Jesus, quicken me.
Artist And Man
by
Ella Wheeler Wilcox
Make thy life better than thy work. Too oft
Our artists spend their skill in rounding soft,
Fair curves upon their statues, while the rough
And ragged edges of the unhewn stuff
In their own natures startle and offend
The eye of critic and the heart of friend.
Beautiful Sleep
by
Achsa White Sprague
Beautiful sleep!
We call you, we implore you,
Come to us now;
Help us to rest the weary head,
From which the strength and power have fled,
And soothe the aching brow.
Clairvoyance
by
Madison Julius Cawein
The sunlight that makes of the heaven
A pathway for sylphids to throng;
The wind that makes harps of the forests
For spirits to smite into song,
Are the image and voice of a vision
That comforts my heart and makes strong.
Couleur De Rose
by
Ella Wheeler Wilcox
I want more lives in which to love
This world so full of beauty,
I want more days to use the ways
I know of doing duty;
I ask no greater joy than this
(So much I am life's lover),
When I reach age to turn the page
And read the story over.
(O love, stay near!)
Doggie's Tricks
by
Mary Mapes Dodge
What's this coming? Baby, hark!
It's the doggie -- hear him bark ---
Bow, wow, wow, wow ---
Don't you frighten Baby now!
Dual
by
Ella Wheeler Wilcox
You say that your nature is double; that life
Seems more and more intricate, complex, and dual,
Because in your bosom there wages the strife
'Twixt an angel of light and a beast that is cruel --
An angel who whispers your spirit has wings,
And a beast who would chain you to temporal things.
Echo
by
Thomas Moore
How sweet the answer Echo makes
To music at night,
When, roused by lute or horn, she wakes,
And far away, o'er lawns and lakes,
Goes answering light.
Endymion
by
Henry Wadsworth Longfellow
O, weary hearts! O, slumbering eyes!
O, drooping souls whose destinies
Are fraught with fear and pain,
Ye shall be loved again!
No one is so accursed by fate,
No one so utterly desolate,
But some heart, though unknown,
Responds unto his own.
Responds -- as if with unseen wings,
An angel touched its quivering strings;
And whispers, in its song,
Where hast thou stayed so long?
Etty's Rover
by
Letitia Elizabeth Landon
Thou lovely and thou happy child,
Ah, how I envy thee!
I should be glad to change our state,
If such a thing might be.
Fishing
by
Ella Wheeler Wilcox
Maybe this is fun, sitting in the sun,
With a book and parasol, as my angler wishes,
While he dips his line in the ocean brine
Under the impression that his bait will catch the fishes.
Forest Music
by
Hannah Flagg Gould
There's a sad loneliness about my heart, --
A deep, deep solitude the spirit feels
Amid this multitude. The things of art
Pall on the senses -- from its pageantry,
Loathing, my eye turns off; and my ear shrinks
From the harsh dissonance that fills the air.
Gaspar Becerra
by
Henry Wadsworth Longfellow
By his evening fire the artist
Pondered o'er his secret shame;
Baffled, weary, and disheartened,
Still he mused, and dreamed of fame.
Gethsemane
by
Ella Wheeler Wilcox
In golden youth when seems the earth
A Summer-land of singing mirth,
When souls are glad and hearts are light,
And not a shadow lurks in sight,
We do not know it, but there lies
Somewhere veiled under evening skies
A garden which we all must see --
The garden of Gethsemane.
Gude'en To You, Kimmer
by
Robert Burns
Gude'en to you, kimmer,
And how do ye do?
Hiccup, quo' kimmer,
The better that I'm fou.
Introductory Verses
by
Ella Wheeler Wilcox
Oh, you who read some song that I have sung --
What know you of the soul from whence it sprung?
Dost dream the poet ever speaks aloud
His secret thought unto the listening crowd?
Go take the murmuring sea-shell from the shore --
You have it's shape, its colour - and no more.
Looking On The Milky Way
by
Katharine Lee Bates
Flood of stars that hold your course
High across the night,
Serried lustres numberless
As the souls that Godward press
In continual flight,
From what flaming wildfire source,
Shimmering river of the skies,
Tide of light,
Do your waves arise?
My Garden
by
Caroline Bowles Southey
I love my garden-dearly love
That little spot of ground;
There's not, methinks, (though I may err
In partial pride,) a pleasanter
In all the country round.
The smooth, green turf winds gently there,
With no ungraceful bend,
Round many a bed and many a border,
Where, gayly grouped in sweet disorder,
Young Flora's darlings blend.
Spring, Summer, Autumn. Of all three,
Whose reign is loveliest there?
O, is not she who paints the ground,
When its frost-fetters are unbound,
The fairest of the fair?
I gaze upon her violet beds,
Laburnums, golden-tressed,
Her flower-spiked almonds, breathe perfume
From lilach and seringa bloom,
And cry, I love Spring best!
Of One Asleep
by
Alice Cary
Once when we lingered, sorrow-proof,
My gentle love and me,
Beneath a green and pleasant roof
Of oak leaves by the sea,
Like yellow violets, springing bright
From furrows newly turned,
Among the nut-brown clouds the light
Of sunset softly burned.

Once In A While
by
Ella Wheeler Wilcox
Once in a while, in this world so strange,
To lighten our sad regrets,
We find a heart that is true through change --
A heart that never forgets.
Oh rare as a blossoming rose in December --
As a bird in an Arctic clime,
Is a heart, a heart that can remember
Through sorrow and change and time.
Revisited
by
Madison Julius Cawein
The waver of the summer-heat upon the drouth dry leas;
The shimmer of the thistle-drift adown the silences;
The gliding of the fairy-fire between the swamp and trees:
They qualified her presence as a sorrow may a dream --
The vague suggestion of a self; the glimmer of a gleam;
The actual unreal of the things that only seem.
Robert Burns
by
Henry Wadsworth Longfellow
He sings of love, whose flame illumes
The darkness of lone cottage rooms;
He feels the force,
The treacherous under-tow and stress,
Of wayward passions, and no less
The keen remorse.
At moments, wrestling with his fate,
His voice is harsh, but not with hate;
The brush-wood hung
Above the tavern door lets fall
Its bitter leaf, its drop of gall,
Upon his tongue.
But still the burden of his song
Is love of right, disdain of wrong;
Its master chords
Are Manhood, Freedom, Brotherhood;
Its discords but an interlude
Between the words.
Secret Thoughts
by
Ella Wheeler Wilcox
I hold it true that thoughts are things
Endowed with bodies, breath, and wings,
And that we send them forth to fill
The world with good results - or ill.
Something Left Undone
by
Henry Wadsworth Longfellow
Labour with what zeal we will,
Something still remains undone,
Something uncompleted still
Waits the rising of the sun.
Song Of Innisfail
by
Thomas Moore
They came from a land beyond the sea,
And now o'er the western main
Set sail, in their good ships, gallantly,
From the sunny land of Spain.
Oh, where's the Isle we've seen in dreams,
Our destin'd home or grave?1
Thus sung they as, by the morning's beams,
They swept the Atlantic wave.
The First Spring Day
by
Christina Rossetti
I Wonder if the sap is stirring yet,
If wintry birds are dreaming of a mate,
If frozen snowdrops feel as yet the sun
And crocus fires are kindling one by one:
Sing, robin, sing;
I still am sore in doubt concerning Spring.
The Fisherman Piping
by
Aesop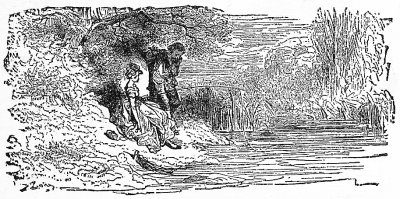 A FISHERMAN skilled in music took his flute and his nets to the sea-shore. Standing on a projecting rock he played several tunes, in the hope that the fish, attracted by his melody, would of their own accord dance into his net, which he had placed below. At last, having long waited in vain, he laid aside his flute, and casting his net into the sea, made an excellent haul.
The Fly
by
Theodore Tilton
Baby Bye,
Here's a Fly:
Let us watch him, you and I.
How he crawls
Up the walls --
Yet he never falls!
I believe, with those six legs,
You and I could walk on eggs!
There he goes,
On his toes,
Tickling Baby's nose!
The Harp Of Andrew Marvell
by
Theodore Tilton
O Marvell's harp! I dare to wake
Thy silent strings for Freedom's sake,
To sing how vain thy boast
Of Cromwell's conquering host!
The Lake Of The Dismal Swamp.
by
Thomas Moore
They made her a grave, too cold and damp
For a soul so warm and true;
And she 's gone to the Lake of the Dismal Swamp,
Where, all night long, by a fire-fly lamp,
She paddles her white canoe.
The Open Window
by
Henry Wadsworth Longfellow
The old house by the lindens
Stood silent in the shade,
And on the gravelled pathway
The light and shadow played.
The Poet's New Year's Gift
by
William Cowper
That wish on some fair future day,
Which fate shall brightly gild,
('Tis blameless, be it what it may)
I wish it all fulfill'd.
The Rantin' Dog The Daddie O 'T
by
Robert Burns
O wha my babie-clouts will buy?
O wha will tent me when I cry?
Wha will kiss me where I lie? -
The rantin' dog the daddie o 't.
The Rape Of The Mist
by
Ella Wheeler Wilcox
High o'er the clouds a Sunbeam shone,
And far down under him,
With a subtle grace that was all her own,
The Mist gleamed, fair and dim.
The Rigs O' Barley
by
Robert Burns
It was upon a Lammas night,
When corn rigs are bonnie,
Beneath the moon's unclouded light,
I held awa to Annie:
The time flew by wi' tentless heed,
'Till, 'tween the late and early,
Wi' sma' persuasion she agreed
To see me thro' the barley.
The Twa Dogs
by
Robert Burns
'Twas in that place o' Scotland's isle,
That bears the name o' Auld King Coil,
Upon a bonnie day in June,
When wearing thro' the afternoon,
Twa dogs, that were na thrang at hame,
Forgather'd ance upon a time.
To A Little Brook
by
Eugene Field
And Fido -- how he loved to swim
The cooling brook,
Whenever we 'd throw sticks for him;
And how we boys did wish that we
Could only swim as good as he --
Why, Daniel Webster never was
Recipient of such great applause
As Fido, battling with the brook!
To Helen (I saw thee once...)
by
Edgar Allan Poe
I saw thee once -- once only -- years ago:
I must not say how many -- but not many.
It was a July midnight; and from out
A full-orbed moon, that, like thine own soul, soaring
Sought a precipitate pathway up through heaven,
There fell a silvery-silken veil of light,
With quietude and sultriness and slumber,
Upon the upturned faces of a thousand
Roses that grew in an enchanted garden,
Where no wind dared to stir, unless on tiptoe:
Fell on the upturned faces of these roses
That gave out, in return for the love-light,
Their odorous souls in an ecstatic death:
Fell on the upturned faces of these roses
That smiled and died in this parterre, enchanted
By thee, and by the poetry of thy presence.
Transformation
by
Madison Julius Cawein
It is the time when, by the forest falls,
The touchmenots hang fairy folly-caps;
When ferns and flowers fill the lichened laps
Of rocks with color, rich as orient shawls:
And in my heart I hear a voice that calls
Me woodward, where the Hamadryad wraps
Her limbs in bark, or, bubbling in the saps,
Laughs the sweet Greek of Pan's old madrigals.
When I Am Dead
by
Ella Wheeler Wilcox
When I am dead, if some chastened one,
Seeing the item, or hearing it said
That my play is over, and my part done,
And I lie asleep in my narrow bed --
If I could know that some soul would say,
Speaking aloud or silently,
In the heat, and burden of the day,
She gave a refreshing draught to me;